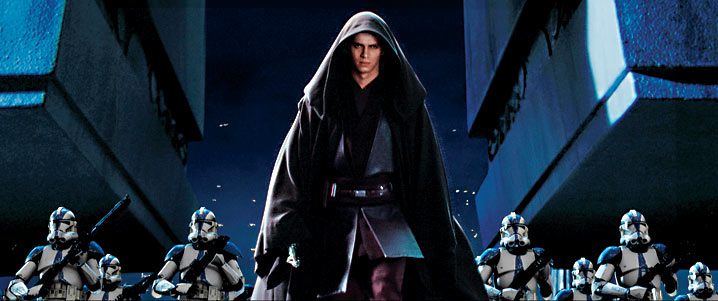 Next week we have a very special project launching: The Narcissist: A User's Guide. What makes this collaboration with Lori Hoeck and Betsy Wuebker so special is all of us have had past experiences with the narcissistic personality. This is a topic we all feel very strongly about and felt the need to share it with the world.
All of us shared common ground in that we never realized what was wrong with these relationships other than they were just wrong. The best example I can give is being in a relationship with a narcissist is like being in a cult; they're charming, charismatic, they manipulate people in such subtle ways that you as an individual don't know what hit you until the damage is done and it's far too late.
The Phantom Menace

Before what I was going through had a name for me to hang on it I often saw many parallels between the relationship and the Star Wars series.  Anakin Skywalker (aka: Darth Vader) is a classic example of a narcissist. He had a traumatic experience early on in life that stunted his emotional growth and led him to be totally self-absorbed, even though he would never see it that way.
He would have power, he would have control, he would rule the Galaxy! It didn't matter what he did to those who loved him, and whether or not he was actually capable of love himself is debatable.
Yoda and Obi Wan both warned young Anakin that fear lead to the dark side; that it would consume him if he wasn't careful. Fear in any form will render a person helpless, no matter how strong they think they are.
I used to think I was a strong person.
I've recently discovered that the person I was never went anywhere. I'm still me. I'm still strong. But it was one night while I was watching Star Wars for the umpteenth time that I realized how much fear the Narci injected into my life.
And here we go referring back to the cult mindset. Cult leaders brainwash you into thinking you can't do it on your own. They tear you down even though in their minds they fully believe they're building you up. Every word out of their mouth is a carefully calculated knife meant to slice away every last shred of self-esteem and confidence you have. The cult leader wants his or her followers to be totally dependent on them – and so does the narcissist.
Attack of the Clones
Once I realized how much these fears had a hold on me, the battle was on. Leaving a narcissist isn't easy, I will tell you that right now. Like Sith Lords they're skilled in putting you in your place and keeping you there. Want some examples? Here is a sample straight from the Guide:
"You are not living up to your vows"
"You promised you would never leave"
"Your leaving will hurt others at the company. Don't you care?"
"You know I have a huge job change upcoming. Why are you doing this to me?"
Oh yes, when you try to leave you may end up thinking it's much easier to stay where you are rather than break free. You're already at your lowest point, you're vulnerable and chances are you no longer know which end is up.
Another side of the narcissist's many-sided coin as you depart is a cold shoulder and withdrawal—if you are lucky. Part of them will be glad to be done with the ego-draining drama your newfound insight, confidence, and resolve are causing them.

They will always try for control and try to assume the former controls and dynamic, but part of them will realize it will only deplete them more.
Some would say that physical abuse is worse than mental or verbal abuse. In my opinion, the latter two are worse. They leave scars no surgeon can heal. And long after the physical scars are gone, chances are the mental ones will never go away.
Many of us here are writers, we understand the power of words. Words have the power to bring down whole civilizations faster than any nuclear bomb ever could. Just reduce that to a smaller individual scale and you can imagine the destruction involved.
Revenge of the Sith
What is the definition of a Sith Lord? Here's what Wikipedia had to say:
Characterized by their single-minded pursuit of power and disdain for sentient life, they are an alliance of warrior mages who use the dark side of the Force and serve as counterparts to the Jedi Knights.

The Sith are portrayed in various Star Wars media as individuals who use the dark side to attain power at any cost. The Star Wars prequel films establish that they draw upon strong emotions, both negative and positive, as the source of their power, and care only about themselves. This is in contrast to the Jedi, who are portrayed as forsaking emotional attachment in order to serve others and the galaxy as a whole.
Starting to see the connection? Even after you've left your Narci it's not over yet. Once they realize they don't have any control over you, they'll still try to find ways to worm back into your life.
Be prepared for a lot of massive mood swing attacks ranging from despair to all out rage. And guilt. Massive amounts of guilt. But what you have to realize through all this is – and this is very important:
It's Not Your Fault.
Repeat this mantra over and over to yourself. Write it on a sticky note and tape it to your forehead. Carve it into stone. Whatever you do, remember it.
A New Hope
I could go on for several more pages with this, but I won't. Not yet. Instead, I'm going to wait for you all to get this ebook in your hands on February 2nd and read for yourselves. Then when you come back, we'll have the coffee and bagels ready.