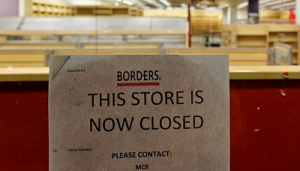 Saturday afternoon began the same way as many of our Saturday afternoons. The plan was to go out to lunch with my husband, followed by a leisurely trip to the bookstore. Lunch was great. Happy and content, I looked forward to my relaxing stroll through the aisles of books, perusing the new titles and brushing my fingers across the new book covers.
I love new books. Books are my guilty pleasure. I could wander the peacefulness of the bookstore, breathing its scent for hours.
Not on Saturday.
The bookstore had been overcome with Vultures. Borders had announced its "Going Out of Business Sale" and the Hoarders and Deal Mongers had crawled out of the woodwork to make sure they got their 10% off of every book and nook and cranny the store had to offer. Even the furniture had to go. They were leaving no stone—or paperback- unturned.
The line snaked from the front door all the way through the different aisles and wound and wound again and again, with person after person, loaded with stacks of books and trinkets.
I stood there, frozen in shock, my eyes welling up, my throat constricting in pain, totally unprepared for the wall of emotion that attacked me at my core.
I felt like Jesus at the temple. I wanted to toss over the tables of books, scream at the people to get out, just get out, and remind them that had they been there in the first place, buying their stacks of heavy-laden books, that this wouldn't be happening now. That it was too little, too late, and they should all just get out and go pay homage to their god, Amazon.
I did nothing.
Except to wonder at my own sin. Had I bought enough? Had I visited enough? Was I an accomplice in this disaster? Was there nothing that could have been done? Where would I go to hang out with my books?
We left.
My husband thought I was taking this a little too hard. I'm sure he has a lot of agreement out there.
However, I fear there may be a day coming when I won't be able to hold a book in my hand before I decide to buy it. A day coming when I won't remember the smell of a leather book, when I won't hold a child on my lap and open my copies of The Tales of Winnie the Pooh or The Secret Garden to page ten.
I'll click on my Kindle.
It won't be the same.
It feels scary. It's unsettling and I feel out of control. I want my bookstore back, dammit.
Change is hard. For me, it's the bookstore. The changing of the guard, the changing of a simple habit, a simple reassuring pleasure. For you, it's something else. But change comes to us all, one way or another, sometimes when we least expect it, unraveling our well-laid plans, our rules and our truths, requiring us to see things in a new light.
We have no power over some kinds of change. We have no power over the tidal waves of  traumatic illness that come out of nowhere, death, unexpected job loss, spouses that up and leave, and betrayal that shakes us to our core.
And then there are the smaller things, like bookstores closing that—at the time—feel like they also are a horrible tragedy. We have no power over those changes either.
It used to be that when I went through one of these changes, one of these moments of feeling out of control, out of power, unsettled or rocked to my boots, either by the big things, or by one of the smaller things, I used to retreat and hide.
My emotions scared me. So, I tried hard not to feel them. I tried hard NOT to live Wide Awake. I tried to live Numb. I tried to get empty.
Instead, I opened the refrigerator and ate everything that wasn't tied down. Instead, I tried to hide in novel after novel and not come back out to the real world. Or I wrote my own stories where I could be in charge. I hid in front of the TV. For awhile, I even got into running and tried to run away from myself.
 I wasn't fast enough.
None of that worked. (Though I did get in shape with the running.)
I made a scary commitment to live Wide Awake and that meant living through not only the good emotions, but the bad, sad and scary ones as well. Even the out of control ones.
That means that even though not everyone in the world is going to mourn the loss of a big box bookstore, and that some people will think I am a sniveling big baby for crying over its demise, I have to own up to the fact that those are truly, my very own scary, out of control-oh-my-god-what-is-this-world-coming-to-emotions…and that…even if other people have logical, reasonable opinions about why none of this matters…
That doesn't matter.
Because it matters to my heart—and to my feelings of being in control with change in the world and how I need to evolve with that. I know that once I accept how I feel, look at it and move through it—I can get past it. No apologies necessary. It's how I felt and that's okay.
This isn't an article about a bookstore. This is about me and you. This is about all of us, and about the times we hide from our fears because of what we think we are supposed to feel and act and do, instead of looking at our real emotions, feeling them and then dealing with them once and for all.
What makes you feel out of control? How do you deal with it?