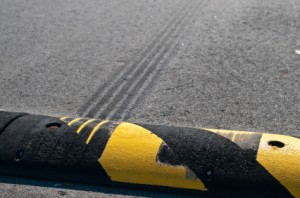 Writer's block is a common subject on a lot of blogs. Sooner or later everyone runs into it. For the past few weeks, I went through one. So did Wendi. Even Davina wrote about it here.
That got me thinking: Is it really a block or is it just a bump in the road? After all, one never really stops writing. You keep trying to make something happen. You might write, feel it's not right, ditch it and start over dozens of times. But you're still pushing forward.
I think from now on I'm going to look at writer's block as more of a writer's speed bump. Usually, when I put on the brakes and slow down, creativity has a chance to refill its stores. Sometimes this means doing things other than the current project or post you're working on.
I go off on a lot of tangents. On the outside it looks like I'm procrastinating. The truth is I'm shifting gears and driving around that little dip between the curb and the speed bump. You can do that kind of thing on a motorcycle, you know.
Doing something else frees up my mind to both concentrate on what I'm doing and think about what I was working on before.
And if I don't come up with a solution while I'm working on the other thing, I end up with a kick ass project anyway. This lifts my mood, I feel on top of the world again and then I dive back into the other project with amazing results.
So, instead of thinking of writer's block as a wall, reduce that brick and mortar to a little bump. See if it works.