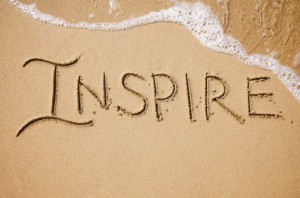 In January of this year, instead of a New Year's Resolution, I chose a word- just one word-to be my guiding light for all I chose to do.
I asked you to join me on a challenge. A challenge to live life by a certain standard, one that required us to be wide awake, fully engaged and on purpose. I challenged us to fully commit to a life worth living.
The one word was Inspired. And the challenge was to to spend this year living an Inspired Life.
Several  of you took that Challenge. We are just passing the six month mark in the year. Half of our Inspired Year is over.
How are we doing?
Going through life with my eyes half-closed
I have found it to be an amazing journey so far. I'm not sure what I was expecting, but, it wasn't this. It was fun for the first few weeks in January to run around all pumped up and motivated, with fire in my belly singing, "I want to Live Inspired!". The words soaked into my skin and into my heart but soon they created a dissonance that was no longer any fun at all.
In fact, it was down right painful. It was hard to be inspired when all around me were things that were uninspiring. What I discovered was that I didn't like what I saw when I lived with my eyes wide open. I didn't like the clutter. I didn't like my weight. I didn't like the list of plans, and dreams and goals not done. I liked the ideas and the future better then the actual reality and moment that I was living in. That…I wasn't fond of at all.
The part where the honest truth is a little bit ugly.
I discovered something very interesting about myself. I have a lovely ability to turn away from that which I don't want to see. I just stop seeing it. Turns out it's easy to be positive and upbeat when you refuse to look at anything ugly. Including your own messes. But it isn't living wide awake. It isn't living Inspired. It's living numb. It's living on auto-pilot and refusing to see what is really around you.
The more I wanted to Be Inspired, the more I kept my eyes open to the world around me, the more I had to admit….I didn't like it very much.
It wasn't all that inspiring.
Huh.
I had a choice. Go back to living with my eyes half-closed or get busy and change my life so I could honor my goal of Living Inspired.
I got busy.
In the last six months I have:
Said goodbye to toxic relationships
Started the War on Clutter- (and we are winning!)
Accomplished my lifetime goal of writing a novel. (With Deb, to be published this fall)
Got my weight and health plan back on the right track ( in progress)
Built a successful business with Deb at Blue Sun Studio, inc
Enjoyed wonderful, meaningful good times with my husband and family
Am honestly feeling fully engaged, wide awake and Inspired.

Wealth is the ability to fully experience life.
~Henry David Thoreau
It has really been a grand adventure. But not an easy one. There was a death in the family this week. I discovered that living wide awake  and inspired also means being willing to fully experience the sadness and the tears also. No more walking away from what I don't want to see means…well…it means being willing to experience pain.
That has been a painful reminder. Life hurts. Deep sometimes.
But I'll tell you this. I will gladly feel every drop of pain for all the love and magic and mystery it also has to give. Living Inspired this year is making the life I always wanted a reality, strengthening rewarding, loving relationships and opening doors of possibilities that once only seemed like fairytales.
And it's only the end of June. I can't wait to see what the rest of the year will bring.
How about you? How is your Inspired year going?  It's not to late to take the challenge.