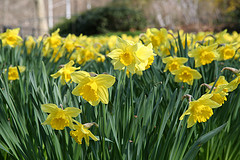 Daffodils by k4chii
This is the kind of day that poets write about.
The sun is bright and clear, the sky has been painted a periwinkle blue, soft cotton clouds are drifting in the sky and the birds are chirping out a happy tune.
The grass, which had faded to it's winter brown is re-surging with touches of green- a sign of hopefullness that fills the heart with joy. Spring has arrived in all of it's glory. The daffodils are coming up in the garden along with other early bulbs and soon will be in full flower. Tomorrow is Good Friday and for a lot of us, the start of a longer holiday weekend.
The freshness of the day doesn't lend itself to an attitude of buckled down hard work. Eyes stray to the open window, excuses for stepping outside pop to my mind frequently and it is difficult to keep my mind on my tasks. I have my Flylady timer set next to me and I set it for the magical fifteen minutes, promising myself that if I can just focus for fifteen minutes more on a project that I can take a little break outside. It has helped all morning.
But…I'm giving up. At 2:30 in the afternoon, I am calling my work day done and am going to spend the rest of the afternoon enjoying the gift of this day. It's been too long of a cold harsh winter to just take a day like this for granted. A glass of ice tea is waiting for me. I have a baseball game to go and watch. I have daffodils to enjoy in the garden. 
This is one of my favorite spring poems. I shared it with you last year but I am sharing it again,
just in case you don't get to make it out to the garden today. Have a daffodil from me!
D

affodils

– a poem by William Wordsworth
 I wandered lonely as a cloud
That floats on high o'er vales and hills,
When all at once I saw a crowd,
A host, of golden daffodils;
Beside the lake, beneath the trees,
Fluttering and dancing in the breeze.
Continuous as the stars that shine
And twinkle on the milky way,
They stretched in never-ending line
Along the margin of a bay:
Ten thousand saw I at a glance,
Tossing their heads in sprightly dance.I gazed—and gazed—but little thought
What wealth the show to me had brought:
The waves beside them danced, but they
Out-did the sparkling leaves in glee;
A poet could not be but gay,
In such a jocund company!
For oft, when on my couch I lie
In vacant or in pensive mood,
They flash upon that inward eye
Which is the bliss of solitude;
And then my heart with pleasure fills,
And dances with the daffodils.