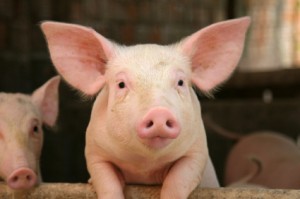 I always knew I'd be a writer. In fact, since I have been old enough to hold a pen, I promised myself I would be a published author someday…no later then my Fifty- first Birthday. (It seemed old once. It doesn't anymore. )Every time I walked into a library or a bookstore I would fantasize about it, and dream that the book I was holding in my hand actually had my name scrawled across the front of it instead of some other lucky author.
But I didn't really write. I dabbled at writing. I talked about writing. I wrote about writing. But I didn't put in the grueling hours behind the desk, plugging away at the keyboard day after day, month after month, refining the words,polishing the same pages and chapters until they glowed like a gem. I wasn't willing to do the hard work. I didn't eat, drink, sleep with and make love to my words. I wasn't married to my writing.
Then on March 8th, 2008, I came across this quote that changed my life.
It's no good running a pig farm badly for thirty years while saying, "Really I was meant to be a ballet dancer." By that time, pigs will be your style.

Quentin Crisp
I was on the cusp of turning forty-eight when I read that quote, with no idea in the world how I was going to make my dreams come true. For awhile, I had been roaming the net, reading blogs and soaking up new information that had been pouring out through the "How To Do Everything" Cornucopia of  "Experts" that had hit the blogging stage.
On sheer impulse, I reached over with my mouse, clicked the free WordPress button,  came up with the name Life's Little Inspirations, jotted down my thoughts on the Pig Farm quote and Wham…I was a blogger.
Why had I done it?
Because I was running out of time.
That moment was the second I had to look myself in the mirror and say…"Wendi? Are you doing this or not? Are you or are you not- A Writer, and are you or are you not…going to write and publish a book, cause if you don't you might as well be a pig farmer all your life."
I had to get out of the mud. I knew I would never, ever forgive myself if I didn't.
Writing posts here at LLI were the first baby steps. I never expected anyone to read them. I just expected myself to come here and write, to show up to the page and have the discipline  to put something coherent out there that would be technically published. The fact that the world responded almost blew me away. It was an incredible feeling and the affirmation I needed to keep on going.
Meeting Deb Dorchak and James Chartrand and writing with them both at Escaping Reality expanded my confidence in writing fiction in ways that are immeasurable.  I will always be grateful to both of them for my experiences as their writing partners there.  They are both incredibly talented writers and I know without a doubt, that I owe them both a great deal of recognition for the growth of my writing skills over the last two years.
The Journey through Intention
On March 8th, 2008, I made an intention.  An easy way to describe an intention- my version anyway- is to say it's that moment when you set something in your head that says, "This is what I intend to do and come hell or high water, this is how it's going to be. And then it just is. No drama. No marching band, no bugles, just the matter of fact knowledge that this is how it is and nothing in the world is going to change it. It's unshakable. I set my intention to be a published writer before I left my fiftieth year. NO MATTER WHAT. I just put it out there, believed it, hit the WordPress button and started my new life.  Cause I sure as hell wasn't going to be a pig farmer.
I didn't know all of you would come here. I didn't know I would meet Deb and James. I didn't know that one day Deb and I would be talking and we would discover we had similar dreams of owning a similar business that meshed so well that we would become business partners together. I had no idea that Deb and I would have a writing style that blended so well that our words tumbled together on the page and that our brainstorming and ideas could create an adventure that spanned the space of four large books.
I had no earthly idea. I couldn't have imagined this in all my wildest dreams. but the Universe did. Or, I'd like to think God did…if you'll allow me an expression of my own faith here.
When you put your foot down, make the decision- and start step by step working toward your vision, the universe will respond. Every single time.
But you have to make the first step. And you have to keep on walking. You can't ever quit. If you want to stay out of the mud, you have to keep on walking.
By the way, I AM a writer now.  I never doubt it, I never question it or wonder. I've come a long way from that first Pig Farm post where I got paid to write but still doubted my value in the writing world.
How do I know I'm a writer? Because I write. Day in, day out, up at six thirty, hands on the keyboard, fingers flying, my head lost in a world that only exists in the mind of the two women who created it and the few people who've been allowed access to it. I write for hours. Six, seven, eight hours a day- or night-depending on what day it is, and then when I am finished, I look it all over and tear it apart and make it all better. I refine it, I dream about it, I make love to my words in my sleep. I'm as married to my writing as I am to the man who shares my bed at night.  Our characters are as real to us as any flesh and blood person we know. Because we wrote them and brought them to life.
And the book? Bonds of Blood & Spirit: Loyalties will be published in late October this year, six months before my fifty-first birthday. It's been an amazing journey that all began in the mud.
So…if you ever feel like your down in the dirt and it's too late to start over?
It's not. Nobody has to be a Pig Farmer except the guy who takes care of the pigs.