"The Miracle isn't that I Finished. The Miracle is that I had the Courage to Start"
John "The Penguin" Bingham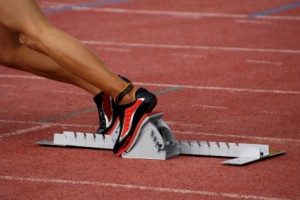 How did an overweight, 43 year old couch potato who smoked and drank and had a clumsy gait like a penguin end up completing 40 marathons, hundreds of 5K and 10K runs, become the author of several best selling books and inspire hundreds of thousands of men and women to run for fun, fitness and to feel better about themselves?
He started.
He woke up one day, put on a pair of sneakers, ran down to the end of his driveway, and ran back. The next day he did it again. The next time a little further. Next thing he knew, he was running three days a week. Soon after that, he became a runner.
The amazing part of John "The Penguin" Bingham isn't that he discovered a latent talent for running that had gone unnoticed, or that he was more special than you or I. The amazing part about John is that he is one of the few who actually woke up one day, looked at his life, deemed it unworthy and started over. He gave himself a do-over.
Somewhere along the way, it is common for folks to imagine that their lives are a train going down a very long continuous track. They peer down that track, seeing no end in sight for miles and miles, years and years and think, "well, that's my train, that's my track, can't change it, it's the track I'm stuck with."
They may even be able to look back and tell you, right where the train took the switch and changed directions, veering off the course they had dreamed about. But never-the-less- it's too late now. Their train is on a one way path to wherever…
John Bingham was able to peer down that track and see what lied ahead. It wasn't going to be pretty. At 43 years of age, he was overweight, washed up, with no dreams or inspiration, nothing to look forward to and a lifetime of sedentary, passive existence on the sidelines of life.
He pulled the switch and turned his train around.
He had the courage to just start, just jump right in to something new. A new way of living, a new plan, a new mindset, new habits and ultimately a new life that would take him to places and adventures and success that he couldn't have even imagined when he first stood outside his garage and laced up those sneakers. He had no idea where he was going or even if he would be able to run more than a few steps. All he knew was that the certainty of the past, continuing into his future was a worse bet then trying something new.
The best keys to success state that to succeed you need to have a vision, a plan and the steps to make it happen. Know where you are going and how you are going to get there. In theory, I agree.
However, there are times, and often it is somewhere between a rock and a bottom, where just about anywhere is better then where you are about to end up. Drastic times call for drastic measures and at times like that, there isn't time to wait for the Muse of Vision to shine on your path.
In those times, it's time to take a step, one step, in the right direction. Just a run to the end of the driveway if that is all you can do. Tomorrow, you can go a little further. Just jump in and get started. Soon you you will be able to look back and see how far you have come, but for now, just one step.
Everyone has the power to improve their lives. Though faith, through community, through love, through hard work, through self-discipline, through soul-searching and a willingness to serve others, we can all become better people, we can all become a better community. It can happen one step at a time. We are not really trains on tracks. That is only an illusion.
It takes courage. Courage to take the first step. Courage to take the next and the one after that, one baby step at a time. Soon, if it wasn't there to begin with, the vision will come, the plan will evolve and then the runner will be able to run. All the way to the finish line.
It takes courage to cross the finish lines of life… It takes even more courage to believe you can start running at all.
Are there places you could change by just starting? Why not just jump right on in? What are you waiting for?
If not Now then When?