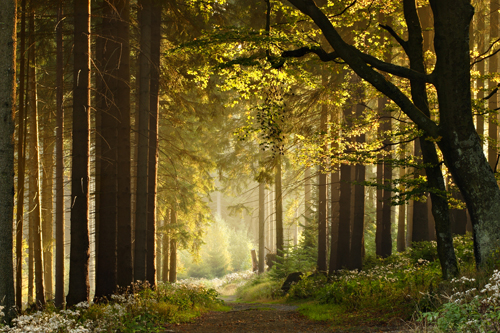 The Road Not Taken
Two roads diverged in a yellow wood,
And sorry I could not travel both
And be one traveler, long I stood
And looked down one as far as I could
To where it bent in the undergrowth;
Then took the other, as just as fair,
And having perhaps the better claim
Because it was grassy and wanted wear,
Though as for that the passing there
Had worn them really about the same,
And both that morning equally lay
In leaves no step had trodden black.
Oh, I marked the first for another day!
Yet knowing how way leads on to way
I doubted if I should ever come back.
I shall be telling this with a sigh
Somewhere ages and ages hence:
Two roads diverged in a wood, and I,
I took the one less traveled by,
And that has made all the difference.
Robert Frost
Thirty six years and nine months ago, I stood at a fork in a road, much like the traveler in Mr. Frost's poem.  I was fifteen years old and had a choice to make.
There I stood at the fork in the road of the remainder of my teenage years or immanent motherhood.
And now, today, here I am, telling this with a grateful sigh, ages and ages hence, happy to say, I took the road less traveled and it has made all the difference.
I'm not saying that choice would be right for everyone. I know for a fact that it is not. The road I chose is a dirt road with pot holes and is not paved with gold. There were many twists and turns along the way. The street lamps are often burnt out and you have to feel your way around in the dark. It takes courage, faith, commitment and I dare say a fair amount of sleepless nights.   But for me, thirty- six years ago, my life was turned around by a tiny bundle of love that is celebrating her birthday today, and each year on this day I am reminded how much this anniversary of her birth changed the path of my life forever.
I am profoundly grateful that I chose the road less traveled, the road named love.
I turned my back on that other road. The road of anger, the road of blaming others for perceived injustices, the road of  numbing my pain with drugs, and the road of fear.
I chose love instead.  And it took me down the path of becoming a mother, not only to this one, but of three more, and to a handful of others that call me mom, and two wonderful grandchildren.
Of all the successes and victories I have had along the way, being a mom is the one I hold closest to my heart. Bringing four wonderful human beings into this world that I am so dang proud of, is the number one thing that I will claim as my victory as I leave this world for heaven someday.
And it all began with the road taken. The road to love.
But…The One Thing That Robert Frost Didn't Tell Us
The road taken isn't a straight highway.  It intersects here and there ,with other roads. It's easy to get lost.  It's important to keep a map close at hand, so you can keep your destination in front of you. If you're not looking at that map frequently, you may very quickly end up on some side road that you don't want to be on.
It's a life- long and often daily journey to eradicate fear, blame, perceived injustice, and numbing ourselves with substitutes for living wide awake.  You have to keep your eye on the road. They can be tricky. I gave up drugs and turned to food. Gave up binge eating and discovered the internet, got that under control and oh my…wasn't there something else waiting in the wings. It took a commitment to living on purpose to get off that road and believe me…I don't take it for granted.
I choose the road of love. But that doesn't mean it's a choice I made thirty-six years ago and forgot about it.
It's a choice I have to make, over…and over again.
Otherwise, I might find myself on that road more often taken after all.