When we change the way we look at things, the things we look at change. – Wayne Dyer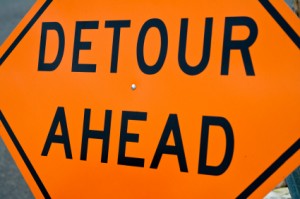 Last August a giant Roadblock arrived in my life in the form of injury. A foot injury that the doctor told me would take a full year to recover from. The first two months, I was gripped with an irrational fear. A fear that this was IT. That moment in life where something happens to change you from the young, vibrant person you are into a dependent, helpless OLD person.
It had nothing to do with my age. It had to do with feeling capable. Independent. Successful. Healthy.
Or not.
Walking up and down stairs was a challenge. So I moved my office to the sofa. I gained ten pounds, watching in horror as my flexibility morfed into stiffness all over my body. I complained. I whined. I hobbled around and cut out all activities that weren't necessary.
After the first two months of healing, I was sent to physical therapy. It HURT! I didn't want to go. It wasn't fair. For a one split-second injury, it didn't seem reasonable that I now had to take two mornings out of my life to be subjected to more pain for months.
Then, in the midst of my complaining, I realized a very important thing. I could continue to whine and complain and gather my little piles of sympathy around me for comfort, or I could change my attitude and get busy healing.
I came across a quote from one of my favorite movies, Shawshank Redemption.
"Get busy living or get busy dying."
I realized that I had not only fallen off my bike, I had fallen off my life. I had stopped living wide awake because a roadblock had been thrown in my path.
Hmmm.
I have always considered myself to be a very forward-thinking positive person. I had made a commitment to live Wide-Awake and experience my life full throttle. To discover this about myself was very unsettling. One roadblock thrown in my path and I just simply sat down and gave up.
Literally.
It was time for an attitude adjustment. It was time to stop viewing the accident from a roadblock point of view and into a stepping stone point of view.
From Roadblock to Stepping Stones
My journal and I sat down for a little pen and paper chat. These were the questions I asked:
How could I use this roadblock as a learning tool?
What steps did I need to take to get back on track?
What fears were holding me back?
How was my mindset leading to feeling stuck and helpless?
What benefit was I currently getting from being helpless?
Could I find a better benefit to being strong?
The answers to these questions took a good deal of soul searching  and journaling played a big role in ferreting out the hidden beliefs and truths that were keeping me stuck in this roadblock mindset. Some of the answers weren't very pretty. I wasn't pleased with my negative mindsets or that I had inadvertently embraced an attitude of fear. But honesty was the first step to change and I had to look it straight in the face.
I made a commitment to embrace my journey back to good health. I made a personal promise to faithfully go to- and participate fully- in all of my physical therapy. When it was completed, I made a new commitment to go to the gym three times a week and get stronger and more flexible.
I renewed a life commitment to eat  healthier.  I stopped using my injury as an excuse to indulge and feel sorry for myself.
I made a strong commitment to getting quality sleep so my body can heal.
I decided to celebrate my small successes instead of whining about how far I have left to go.
In short, I turned the roadblock into small, doable stepping stones that would take me back to where I wanted to be.
It isn't over, this journey back to health. The doctor wasn't kidding when he said a full year. This has been a stepping stone to practicing patience and perseverance.  But the strides I have made so far have fueled my resolve to continue my way back to health and fitness.
What roadblocks have kept you from living the life of your dreams? What challenges are keeping you living small instead of becoming the unstoppable you that your were created to be?
Please, share your story in the comments, on Facebook or in email. And if you would like to share your story in a guest post let me know!
Oh by the way, if you have enjoyed this post, please subscribe and share with a friend. Thank you! You might also enjoy subscribing to our newsletter, the Inspired Studio for more tips and stories.